Missing Poster that was circulated from Texas south through Belize. These posters were originally produced by an organization from Texas called Texas Equusearch, which helps locate and recover missing persons in support of the search effort. On April 27th 2009, a media outlet from Lufkin Texas reported that the organization's "search and recovery team has deemed it too dangerous to work in Mexico on the case of a missing Lufkin man."
This is a 2019 Google Maps route from the Tierra Maya Hotel to where Ron's rental car was originally parked and later found on April 11, 2009. You can follow this entire route using the "Street View" feature and see the area where Ron was fishing and the exact spot where his rental car was parked.
Ron Scheepstra enjoyed flats fishing in a saltwater environment as well as the pursuit of other species with a fly rod.
Photo courtesy of Cindy Scheepstra.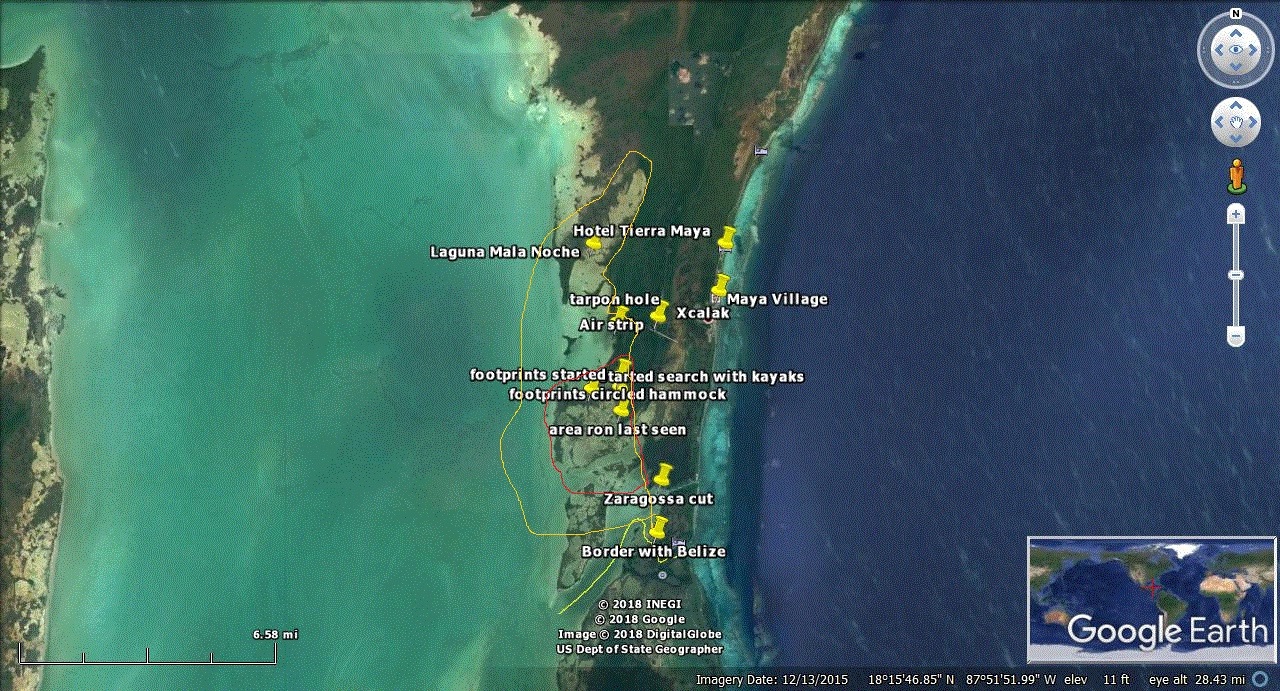 A digital map of the search area that was developed after Ron disappeared. In 2018 Will Rice used this map to better understand where Ron went missing while talking to different people interviewed for Down the Path.
Image courtesy of Kim Calkins.
A road in La Aguada, near where Ron was last seen.
Photo taken by Private Investigator Steve Aguirre.
Photo courtesy of Cindy Scheepstra.
In the News
Here is a story from KTRE, a local ABC news affiliate located in Texas from May 4th, 2009. In the article Cindy Scheepstra is is interviewed and quoted. 'Cindy said she will never stop searching for her husband Ronald. She said her faith is bringing her through this very difficult time.'
This is the original Missing Persons blog post from Texas EquuSearch that was published on April 15th, 2009, just four days after Ron Scheepstra went missing. You will also see message board updates from people who you have heard from in Down the Path.
Back in 2009 A local Mexican news outlet, Noticaribe, published a news article just six days after Ron disappeared. It described the early investigation and the concerns and suspicions held by local Mexican law enforcement as well as the attorney general's office in the state of Quintana Roo. It also gives a glimpse into the critical early days of the investigation.
On May 24th, 2009 The Daily Sentinel, a local Texas newspaper published this article that describes the situation 43 days after Ron disappeared.